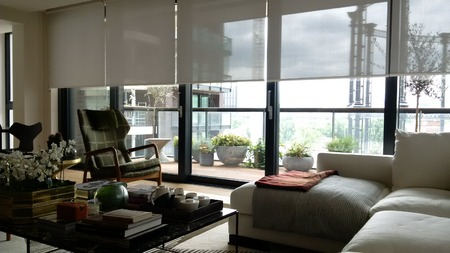 Plimsoll Building, Kings Cross
The Plimsoll Building is an exceptional 255 unit residential development at the heart of the Kings Cross redevelopment scheme. The 13 storey building also incorporates the Kings Cross Academy school.
The residential scheme featured over 1500 roller blinds in a metallised fabric throughout to meet the thermal specification laid down by the engineers. The metallised fabric provides daytime privacy whilst still allowing a view out through the panoramic full height glazing.
Each apartment has its own balcony with sliding patio doors. The blinds were done in groups to match the glazing. To avoid having an operating chain hanging down in the middle of the opening, a master-slave configuration was used where the centre blinds were driven by one of the outer ones.
The bedrooms featured a decor 600 series aluminium curtain track with quiet running nylon gliders.
Blinds to the top floor penthouses were fully motorised, with intelligent electronic motors which were controlled via a KNX interface.
For the academy, the roller blinds were supplied with a robust crank operation for long service life, featuring a removable magnetic handle to prevent unauthorised operation.