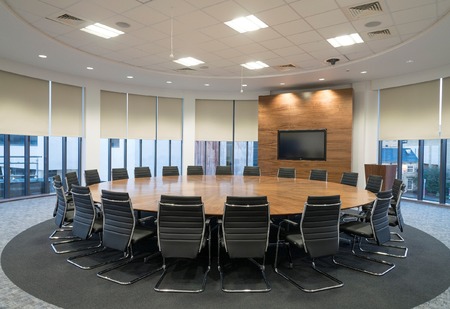 Vice Chancellors Suite
As a highly respected seat of learning, this Northern University holds many accolades. So intelligence was always going to be a factor when it came to selecting a suitable shading system for the Vice Chancellors new circular suite. Decor Systems suggested using Acovo® - the topstone of their roller blind systems; nothing comes close in terms of an intelligent blind system. The clever shades automatically align witheach other as they travel silently up and down. They can be operated all at once or in groups and can even be controlled from a specially developed iPhone app. Add to these features the ability to link into an AV system for room scene control, or run from a sun tracking system to attenuate daylight and it soon becomes clear why Acovo® shades are rightly regarded as intelligent.
The defining feature of Acovo® is it's quietness - perfect for boardrooms, executive suites and hotel guest rooms - it has to be heard to be believed.