Perimeos Ceiling Recess
Perimeos® is a revolutionary ceiling perimeter solution, for concealing blinds and curtain tracks. A key feature is the SpeedClip™ mounting channel. This allows the Perimeos recess profile to be installed along with the ceiling. Blinds or curtain tracks can then be easily installed later without any mess or drilling. The strong aluminium profile enables you to create a much slimmer and neater pocket than would be possible with conventional drylining methods.
Enquire Now
Resources
Projects
Transition Types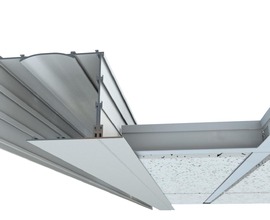 Plain
Suitable for suspended ceilings, a plain 25mm edge allows the tiles and tee sections to rest on it.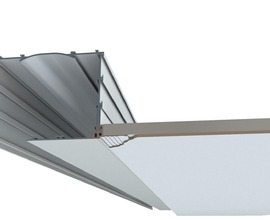 Horizontal Drylining
For plasterboard MF ceilings, the transition acts as a stop beading and is keyed ready for skim.
Vertical Drylining
For bulkhead style situations where the plasterboard meets the box vertically.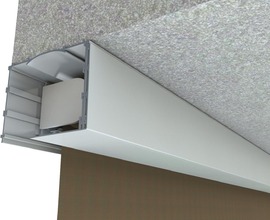 Fascia Profile
For exposed soffit situations, a neat fascia profile clips to the visible face.
Accessories
Curtain Track Profile
Add a recessed curtain track to the front or back of the box with this neat transition.
Bridge Profile
The bridge profile is a spacer extrusion which can accept a decorative filler to create stunning effects in timber, metal, acrylic, fabric
and more.
Side Channels
To create a full blackout blind, add side channels which neatly integrate with the main Perimeos profile.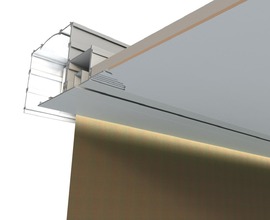 Perimeter Lighting
For a soft backdrop lighting effect, Perimeos® can accept LED strip lighting and neatly conceals the cabling and drivers.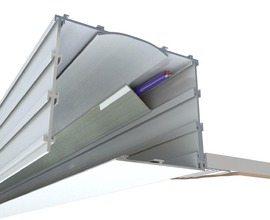 Cable Management
For motorised blinds, a cable containment profile keeps the power and control wiring safely out of sight.
SpeedClip™ Bracket
Blinds and curtain tracks are mounted via the innovative SpeedClip™ bracket which allows products to be installed and removed without any mess or drilling.
Splice Plates
Steel splice plates can be used inside or outside the box to provide a perfectly flush join. A right angled version is used for corners.
Hardware Finishes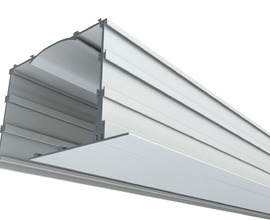 White Powdercoated
Standard finish is RAL 9016 White
Custom Paint
Wet spray to any Dulux or NCS colour reference to match in with your decor.
Custom Metallic
A range of special anodised and metallic powdercoat finishes.